Media release

Published on 13 December 2022
Small business sales and jobs fall for NZ agricultural sector
Xero Small Business Insights latest data shows agri businesses need more support
Wellington — 13 December, 2022 — Xero, the global small business platform, has released a special Xero Small Business Insights update for Aotearoa's agriculture sector, revealing how New Zealand small businesses are faring across the industry.
In October 2022, sales across the agricultural small business sector fell -6.0 percent year-on-year, significantly less than the national average (+5.8% y/y).
Xero's New Zealand Country Manager Bridget Snelling says these declining sales are hitting the sector hard.
"Not only is the agri sector selling less, but the cost of doing business is going up. Agricultural small businesses are currently dealing with a 6 percent drop in sales and an inflation rate of 7.2 percent.
"Another challenge agri small businesses have been facing is historically high wage growth. In October, agri wages were up 5.2 percent, significantly up from the 2021 average of 3.5 percent for the sector."
Jobs across the sector also fell -0.3 percent over the year to October, tracking well below the national average (+7.4% y/y).
"Although these recent figures are bleak, the last few years have proven just how resilient our agri sector is," says Snelling.
"While there are many new and ongoing challenges for the sector, one action many agri businesses can take is considering what digital tools could improve productivity and reduce time on administration."
Agricultural sector and the pandemic
Looking back to how the agricultural sector has fared since the start of the pandemic, sales have been less volatile compared to some other sectors such as hospitality. These figures have tracked close to the national average until mid-2022 when they began to fall behind.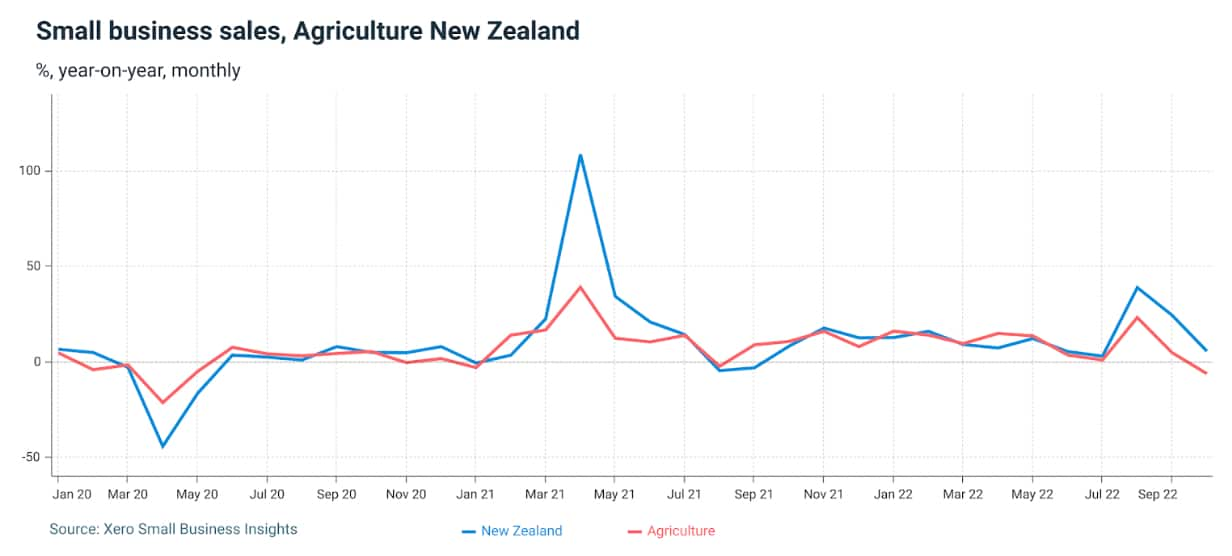 Once the pandemic arrived in New Zealand, job growth within the agri sector fell behind the national average until catching up in August 2020. It then roughly matched national growth until March 2021 when it began to consistently fall behind the growth of most other sectors.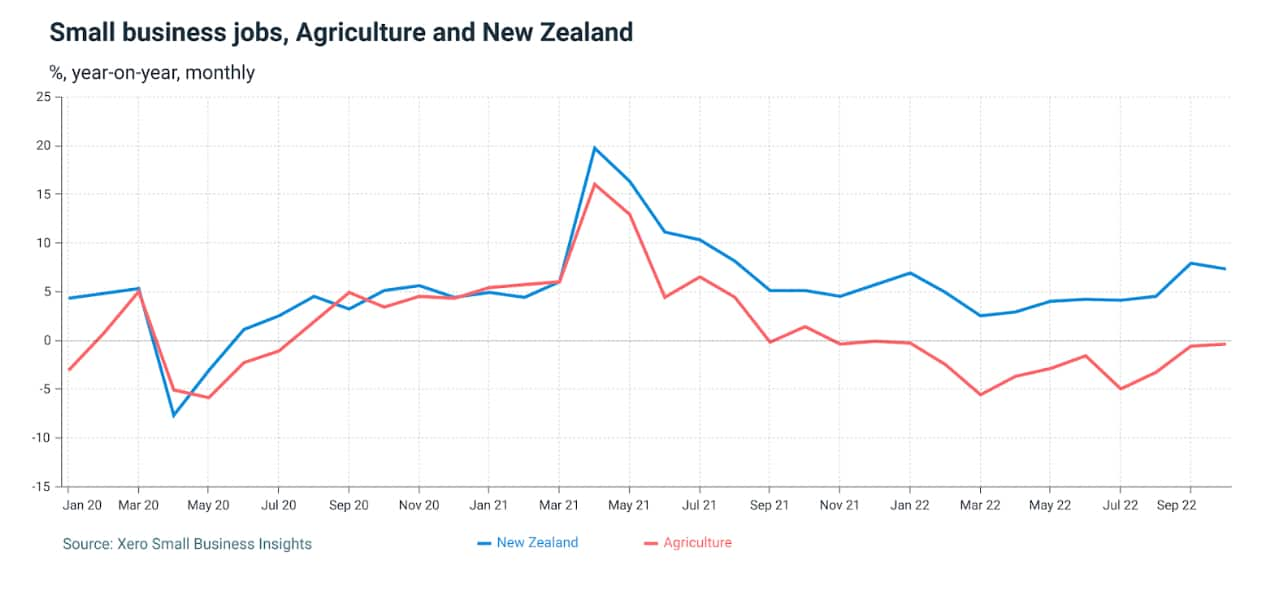 Since the start of 2020, wages growth in the agricultural sector largely followed a similar trend to the national average but at consistently slower growth rates.
Xero is a global small business platform with 3.5 million subscribers which includes a core accounting solution, payroll, workforce management, expenses and projects. Xero also has an extensive ecosystem of connected apps and connections to banks and other financial institutions helping small businesses access a range of solutions from within Xero's open platform to help them run their business and manage their finances. For three consecutive years (2020-2022) Xero was included in the Bloomberg Gender-Equality Index. In 2021, Xero was included in the Dow Jones Sustainability Index (DJSI), powered by the S&P Global Corporate Sustainability Assessment. Xero is a FIFA Women's Football partner under FIFA's new commercial structure.
Related

media and enquiries
For all media enquiries, please contact the Xero media team.
Media release

The latest in product, ecosystem, partnerships and business at Xero

Media release

Actions to reduce emissions will focus on renewable energy, considered business travel and sustainable catering

Media release

Kiwi small business owners adapting to economic uncertainty
Start using Xero for free
Access all Xero features for 30 days, then decide which plan best suits your business.